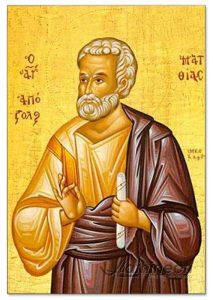 Today is the feast of the Holy Apostle Matthias, chosen to continue the Mission.
The Church prays in her Liturgy:
Chosen by lot through the grace of the Spirit, you were numbered with the twelve divine Apostles. Proclaiming with them the Word who emptied himself in the flesh for our sake, you were filled by the Lord with wondrous powers. O illustrious Apostle Matthias, entreat him to grant to those who praise your name the remission of sins and great mercy.
Though chosen by lot, as it were, by chance, Matthias still had one supreme qualification for being added to the twelve apostles, he was, in the words of Peter, "one of the men who accompanied us the whole time the Lord Jesus came and went among us, beginning from the baptism of John until the day on which he was taken up from us, become with us a witness to his resurrection."