The Divine Liturgy is at 9:00 a.m. (in English) and at 10:30 a.m. (in Ukrainian).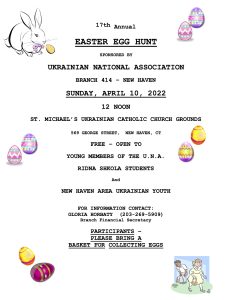 CHARITY EVENT "Help Ukraine" Sunday, April 10, from 12:00 to 5:00. The proceeds are supported to help the Ukrainian army and civilians affected by Russian aggression. You can buy jewelry, souvenirs, candles, handmade clothes as well as pastries and homemade food.
AND the annual Easter Egg Hunt following the second Divine Liturgy.