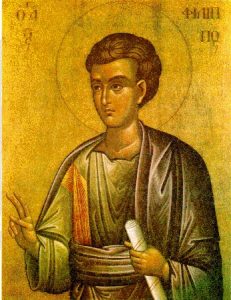 The original title of this Sunday was the Sunday of the Prophets.
Today it is the Sunday of Orthodoxy because we celebrate the victory of the true faith in icons in A.D. 843. We can depict our Lord in icons because he has become a human being, with a human body that we can see, and in this way see in him the glory of God's love for us.
It is interesting then that this Sunday also celebrates the memory of the holy Apostle Phillip. He brings Nathanael to Jesus with the words, "Come and see!" (John 1:46). Then, later in the same Gospel, he will lead us to see God as much as we can with our bodily eyes, asking the Lord, ""Master, show us the Father, and that will be enough for us" (John 14:8). Jesus replies, "Whoever has seen me has seen the Father. (John 14:9)"
This is what is revealed to us this Sunday.
Meditation by Archpriest David Petras