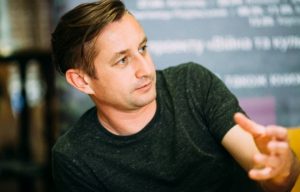 On Thursday, April 20th at 4 pm, New Haven will have a visit by the Ukrainian poet and novelist Serhiy Zhadan.
There will be a poetry reading in Ukrainian and English, then a conversation (most likely in English and Russian), followed by a reception.
Location: seminar room of Horchow Hall, 55 Hillhouse Avenue, New Haven.
Here are some English-language links about Zhadan:
http://www.brama.com/yara/zhadan.html
http://www.asymptotejournal.com/…/mayhill-fowler-on-serhiy…/
http://www.newyorker.com/…/the-bard-of-eastern-ukraine-wher…
https://lareviewofbooks.org/ar…/under-the-tyranny-of-memory/
https://www.lrb.co.uk/…/peter-pomeran…/ukraines-mesopotamia/
Thanks to Marci Shore!!!
PAX