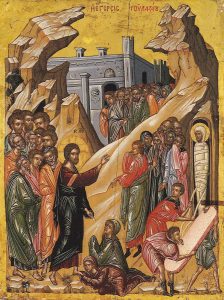 Meditation by the Very Rev. Dr. David M. Petras
Ephesians 2:4-10; Luke 16:19-31
In today's epistle, St. Paul tells us of the inexpressible mercy of God: "God, who is rich in mercy, because of the great love he had for us, even when we were dead in our transgressions, brought us to life with Christ (by grace you have been saved), raised us up with him, and seated us with him in the heavens in Christ Jesus, that in the ages to come he might show the immeasurable riches of his grace in his kindness to us in Christ Jesus. (Ephesians 2:4-7)" The rich man in the gospel, however, does not share in this rich mercy. He is blind and deaf to the needs of his neighbor, and so he died and was buried in Hades. The gospel is quite matter of fact about this and Abraham simply tells him, "My child, remember that you received what was good during your lifetime while Lazarus likewise received what was bad; but now he is comforted here, whereas you are tormented. (Luke 16:25)" This fulfills the prophecy of Jesus, "Blessed are you who are poor, for the kingdom of God is yours … Woe to you who are rich, for you have received your consolation. (Luke 6:20.24)" Even Jesus' mother prophesizes, "The hungry he has filled with good things; the rich he has sent away empty.(Luke 1:53)" Then the rich man in Hades begs Abraham to send Lazarus back to his brothers, "'They have Moses and the prophets. Let them listen to them … If they will not listen to Moses and the prophets, neither will they be persuaded if someone should rise from the dead.' (Luke 16:28.30) So we come to the point of this parable. Jesus indeed raised Lazarus from the dead (John 11:38-44), but the elders of the people did not believe and decided instead that Jesus must die. God is indeed infinite in his mercy, but we must be ready to hear his voice and open ourselves to faith in him. If we close our eyes and ears and hearts, we shut God out. The lesson of last week's gospel, the parable of the sower, still reverberates in our ears, "hear the word, and embrace it with a generous and good heart … whoever has ears to hear ought to hear. (Luke 8:15.8)" We have not only Moses and the Prophets, but Jesus, the Son of God and his apostles and the apostolic faith. If we hear the gospel and act upon it, we will have immeasurable spiritual riches.