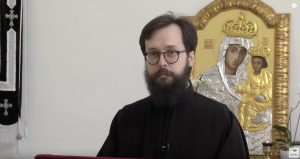 Congratulations to Deacon Daniel Galadza!
Today, the Holy See made the following announcement regarding the Eastern Churches office:
The Holy Father has appointed the following as consultors of the Special Commission for the Liturgy of the Dicastery for the Eastern Churches: the Reverends András Dobos, rector of the Greek-Catholic Seminary of Nyíregyháza, Hungary; Vartan Kirakos Kazanjian, parish priest of Saint John Chrysostom of the Armenian Catholics in Istanbul, Turkey; Jacob Thekeparampil, director of the Saint Ephrem Ecumenic Research Institute, India; Daniel Galadza, professor of Byzantine liturgy at the Pontifical Oriental Institute, Rome, Italy.
Daniel's father and uncle are Ukrainian Catholic priests in Canada. The good deacon is teaching in Rome.