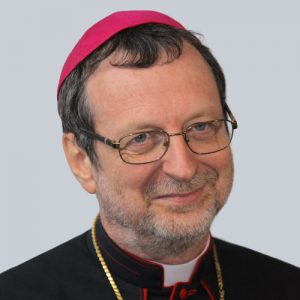 The Holy Father nominated today the Prefect for the Dicastery for Eastern Churches, Archbishop Claudio Gugerotti, until now Nuncio to Great Britain, and previous Nuncio to Ukraine.
Archbishop Gugerotti, 67, has an earned doctorate from the Pontifical Oriental Institute (PIO) in Rome and a former student and colleague of the late Archimandrite Robert F. Taft, S.J. Gugerotti is a specialist in Armenian Liturgy and theology. He's been a priest for 40 years and a bishop for 20, he's from the Verona Diocese. He begins his new ministry in January 2023.
He's a TERRIFIC choice to replace Cardinal Sandri!!!! Sandri, 79, (his birthday was just on November 18) and a native of Buenas Aires, has served at the Prefect of this disaster since 2007.
May God grant His Excellency many healthy and fruitful years!