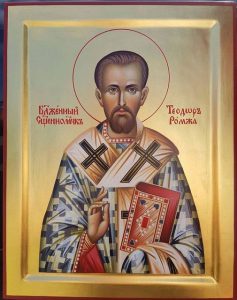 "If the world hates you, realize that it hated me first. … No slave is greater than his master.' If they persecuted me, they will also persecute you. If they kept my word, they will also keep yours." (John 15:18.20)
Bishop Kallistos Ware [+2022] said that today is truly the age of martyrs. More people are giving witness to Christ than ever before.
Today, the Byzantine Catholic Church remembers Blessed Theodore Romzha, who was killed by the Communists as he performed his pastoral duties. In the epistle read today, St. Paul reflects on what Christians have always had to do to follow Christ, "Now I rejoice in my sufferings for your sake, and in my flesh I am filling up what is lacking in the afflictions of Christ on behalf of his body, which is the church. (Colossians 1:24)" This, St. Paul, comes from the great mystery of the Church: Christ in us, our hope of glory. (Colossians 1:27) We do not give up our lives for our own purposes, but because we know that our life is in Christ. We die not only for some ideal, but in witness to a person -the Jesus Christ, our Lord, "light from light, true God from true God." This is why in history Christians have been persecuted by all kinds of organizations and ideologies and economic systems which perceive Jesus, the Giver of Life, as a threat.
Sadly, even in our history, Christians have persecuted other Christians. However, today we proclaim the glory of all those who proclaim Jesus as Lord. Indeed, the feast is ecumenical, celebrating the Byzantine Catholic bishop who died for Christ in 1947, Theodore Romzha, and the Russian Orthodox priest, John Kochurev, who had served as a pastor in Chicago, but was the first Orthodox priest to be martyred by the Communists in Russia in 1917. Both Catholic and Orthodox therefore bear united witness to the one Lord Jesus Christ in the face of his enemies.
Meditation by Archpriest David Petras