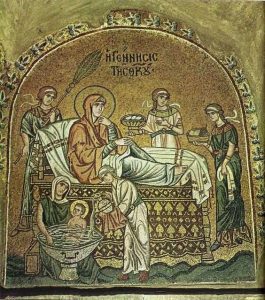 Today, 8th September, we celebrate the feast of the Nativity of Mary, Our Blessed Mother!
"What then should we offer to the Mother of the Word other than an oration? Let the whole of creation make festival and sing of the most holy birth-giving of the holy Anna. For she bore for the world an inviolable treasury of blessings." (St John Damascene, On the Nativity of Mary)
The Epistle today is from Philippians, and it is about Christ, "Rather, he emptied himself, taking the form of a slave, coming in human likeness; and found human in appearance, he humbled himself, becoming obedient to death, even death on a cross. Because of this, God greatly exalted him and bestowed on him the name that is above every name" (Philippians 2:7-9).