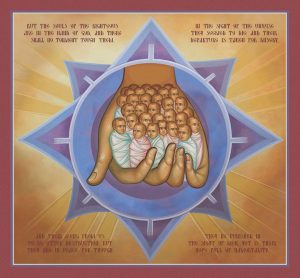 The final All Souls Saturday –Sorokousty– will be on June 4, at 9:00 a.m. The Divine Liturgy with the prayers for the dead will be prayed.
There are 5 All Soul's Saturdays. 2, 3, and 4 were on Saturdays during the Great Fast on days that had no other commemoration (e.g., the Miracle of Theodore and Akathistos). This is due to the liturgical law that fasting periods are more conservative and retain ancient customs. Saturday, the day our Lord was in the tomb was a day for remembering the departed, and that has persisted until the present in Lent.
The All Souls' Saturday before Meatfare Sunday was due to the Church Year. Meatfare Sunday was the Gospel of the Last Judgment and, in a way, concluded the regular cycle of Gospel beginning with Pascha and lasting until the next Great Fast (beginning with Cheesefare Sunday). It was natural, therefore, to remember the departed as we pray for all before the final and last judgment.