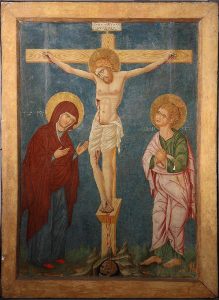 "… let us venerate the wood of Your cross, O friend of men, because on it You have been nailed, Life of all. You opened heaven, O Savior, to the thief who had faith in You; he was worthy of bliss because he confessed to You: remember me, Lord… we have all sinned, for Your love compassion do not despise us."
Today we sing, We bow to your Cross, O Lord, and we glorify your holy resurrection!!!
Image: Crucifixion scene from the post Byzantine era of the mid-15th century, at the church museum of Rossáno, Calabria.