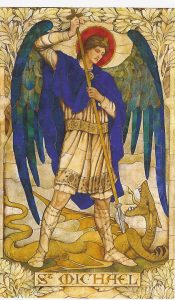 Join us for our parish celebration for St Michael's Day will be on Sunday, November 6, 2016.
There will be only one Divine Liturgy at 10:30 a.m.
Following Liturgy, will have a dinner and a brief program. All parishioners and friends are invited the celebration.
Tickets (available through Halya Lodynsky or to Luba Dubno):
$25.00 for adults
$10.00 for ages 12-18
Free for children under 12, for students of Ridna Shkola and altar boys.
There will be a raffle. If you would like to donate items to be raffled, please bring the items to church hall on Sundays before our Feast Day celebration and give them them Halya Lodynsky or to Luba Dubno.
We ask you to bring a dessert to share at the meal.