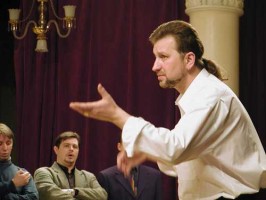 The world-renowned Kyiv Chamber Choir will perform on Wednesday, November 2, at 7:30 p.m. at St. Peter Claver Church (47 Pleasant Street, West Hartford).
Tickets available online: www.ticketweb.com or call Platinum Concerts International at  844-466-2557.
Concert information: www.platinumconcerts.com.
This is a rare opportunity to hear one of the world's great choirs here in Connecticut performing some hidden treasures from 1,000 years of Ukrainian sacred and folk music. Mykola Hobdych conducts the Choir.
"The Kyiv Chamber Choir has only 21 singers, but what singers
they are – big marvelously focused voices. They sung wonderfully clean
unisons and the basses have low E's to die for."
(The Washington Post)