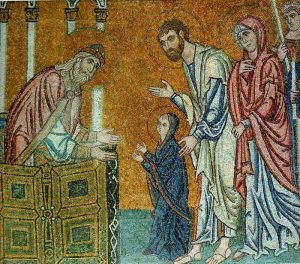 "The most pure Temple of the Savior; / the precious Chamber and Virgin; / the sacred Treasure of the glory of God, / is led today into the house of the Lord. / She brings with her the grace of the Spirit, / therefore, the angels of God praise her: / 'Truly this woman is the abode of heaven.'" (Kontakion-Hymn of the Entry of the Theotokos into the Temple)
Today we have two great feasts celebrated in our churches: According to the so-called New Calendar, it is the Entry of the Theotokos into the Temple, and on the Older Calendar it is the feast of the Archangel Michael and All the Bodiless Powers.
So let me reflect on both. Let me reflect on the visible "temple" of the Lord, the Mother of God, entering another visible temple, in Jerusalem, as "the angels of God praise Her." Both She, and all visible "temples" of today, like us, and our church-buildings, have received the capacity to unite the visible and invisible created worlds, in the Coming of Her heretofore invisible Son in the flesh. We unite with the invisible creation in praise, as we "mystically represent" or "mystically become icons of" (μυστικῶς εἰκονίζοντες) the cherubim at every Divine Liturgy.
But amazingly, we also receive an honor that exceeds theirs, by partaking of the Body and Blood of Christ as they do not. So today let me be humbled by the unique honor I am given in God's one, created world, with the help of His invisible and visible servants. And let me follow His Most-Pure Mother into the Holy of Holies, into a Communion that even the angels are not given.
Sister Vassa Larin