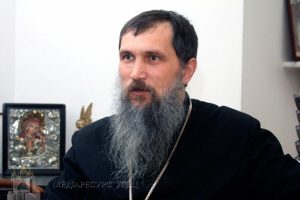 Today, Pope Francis has appointed as bishop of the eparchy of Saint Nicholas of Chicago of the Ukrainians His Excellency, Bishop Venedykt (Valery) Aleksiychuk, M.S.U., transferring him from the titular see of Germaniciana and the office of auxiliary of the archieparchy of Lviv of the Ukrainians.
In English, the bishop's name is Benedict.
The 2015 published  statistics indicate that in the Eparchy of St Nicholas there are 11,000 faithful in 47 parishes with 48 diocesan priests and 11 permanent deacons.
Bishop-designate will be the 5th Bishop of St. Nicholas Eparchy, succeeding the Most Rev. Richard Seminack, who died August 16, 2016.
Benedict (Valery) Aleksiychuk was born on 1 January 1968 in the village of Borshchivka, in the region of Rivne, Ukraine. He attended the major seminary of Drohobych and ordained priest on 29 March 1992.
In 1993, Father Benedict Aleksiychuk entered the monastic life in the Monastery of the Holy Dormition (a Lavra of the Studite order) professing first vows on 21 December 1995. Aleksiychuk earned a doctorate in spiritual theology from the Catholic University of Lublin, Poland.
Father Benedict served several parishes in Bystrytsia; Belarus, Polock, Vitebsk; and in Canada (1996-1999). He has served as Abbot of the Lavra of Holy Dormition (2000 and re-elected in 2005); member of the commission of the Major Archbishop for Monasticism (2004); and administrator of the parish of St. Nicola Peremyshlany (2004). Since 2007, Father Benedict was head of the secretariat of the Council of Monks of the Ukrainian Greek Catholic Church; president of the liturgical council and president of the major superiors of male religious institutes of the Ukrainian Greek Catholic Church.
On 3 August 2010 Father Benedict Aleksiychuk was elected as auxiliary bishop of Lviv of the Ukrainians and consecrated on 5 September 2010.
May God give many years to Bishop Benedict in the Eparchy of Chicago.