Christ is among us!
This week vigil light is offered to God's glory by Katia and Andrew Bamber in memory of Wasylyna Yukash.
Every Sunday you can watch the Divine Liturgy live streamed on our parish Facebook page and parish website at 9:00 a.m. in English and 10:30 a.m. in Ukrainian.
Facebook

: https://www.facebook.com/stmichaelnewhaven

Website

: http://stmichaelukrainian.org
Dear Parishioners please close your phones during the Divine Liturgy. Your phones make our stream live difficult. Thank you!
Dear Parishioners: if anyone needs help such as going to the store to buy groceries, going to a doctor's appointment or the pharmacy, or any other type of special assistance, you may contact the rectory at (203) 865-0388 and arrangements will be made to help you.
We are asking for volunteers to come and paint the front and back entrance to our rental building at 573 George St. If anyone would like to volunteer for this project, please contact Fr. Iura Godenciuc, either in person or you may call the rectory at (203) 865-0388. Thank You.
STAMFORD CHARITIES APPEAL
REMINDER: Please don't forget to donate for Diocesan Charitable Fund. The forms are designed for each family of our parish. Attached to the form is an envelope into which you can place your contribution. The form along with your contribution, we ask you enclose in the envelope and place it in the collection basket during church services. Please make check payable to the BYZANTINE RITE DIOCESE OF STAMFORD. DO NOT MAIL THIS FORM TO THE CHANCERY OFFICE. We sincerely ask all parishioners to make generous contributions.
Adult Faith Formation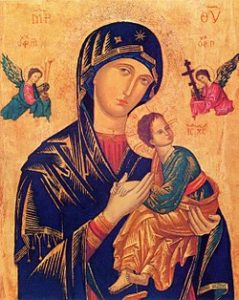 The first Sunday of July is designated for the feast of the Mother of Perpetual Help.
In the Icon of Our Mother of Perpetual Help, the Child Jesus is not portrayed with the physical proportions of an infant, but appears almost as an adult in miniature form.  This has been interpreted to indicate that He is God, having infinite knowledge. Yet He is human as well, for He clings to His Mother's hand in fear, while gazing up toward the angel over His shoulder.  One of His sandals has come loose, indicating the haste with which He has run to her.  Why is the Child Jesus so frightened?  The angels in the picture are holding the instruments of His Passion and death, with the angel on the left bearing the gall, the lance and the reed, while the angel on the right holds the cross and nails.