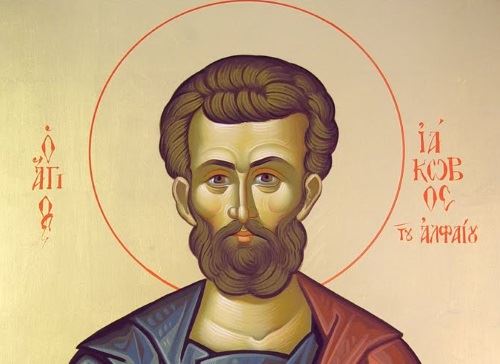 The Byzantine Church discerns three apostles named James: James the Greater, the son of Zebedee; James, the Brother of the Lord and first bishop of Jerusalem; and James, the son of Alphaeus. We celebrate the feast of the latter today. He is the James about which we know the least. The only mention of him was in the lists of the Twelve Apostles. Some speculate that he was the James mentioned by St. Paul in 1 Corinthians 15:7, "After that he appeared to James, then to all the apostles," but commentators even doubt that was this James, also called "James the Lesser." However, it does point to the mission of the apostles, which was to proclaim the risen Lord, a message which has resounded throughout the ages to this very day.
For in today's Gospel, Jesus speaks about his apostles, "Whoever listens to you listens to me. Whoever rejects you rejects me. And whoever rejects me rejects the one who sent me" (Luke 10:16). The apostles, who ran when Jesus was led to crucifixion, nevertheless were courageous in preaching his gospel, and paid a great price, "God has exhibited us apostles as the last of all, like people sentenced to death, since we have become a spectacle to the world, to angels and human beings alike. We are fools on Christ's account, but you are wise in Christ; we are weak, but you are strong; you are held in honor, but we in disrepute" (1 Corinthians 4:9-10).
St. Paul said we must imitate the apostles, for we, too, must be willing to become "fools" for the sake of the resurrection, but the promise is great, as Jesus said, ""I give you praise, Father, Lord of heaven and earth, for although you have hidden these things from the wise and the learned you have revealed them to the childlike. Yes, Father, such has been your gracious will" (Luke 10:21).
Meditation by Archpriest David Petras