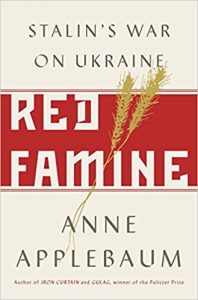 Anne Applebaum's book, Red Famine is spoken of as a major contribution to the public recognition of the state-orchestrated famine of 1932-1933 in Ukraine during which estimated 4 million Ukrainian died. The book puts the story of the forced famine (Holodomor) in the context of the Russian imperial, early Soviet (Leninist and Stalinist), as well as post-Soviet attempts to subjugate Ukraine. Red Famine integrates newly available archival evidence into an account that is compelling and well-written. Of special value is Applebaum's attention to the politics of memory and the relentless attempts by the Soviet and the present-day Russian government to distort, diminish, and suppress the memory of the genocide against the Ukrainian nation.
One reviewer said, "If you want to have one book in your library on the Ukrainian Holocaust of 1932-1933, this is the book to own and read. Get a copy of Red Famine.
The author is a columnist for the Washington Post and a Pulitzer-prize winning historian. Applebaum is a Professor of Practice at the London School of Economics's Institute of Global Affairs where she runs Arena, a program on disinformation and 21st century propaganda. Previous history books include Iron Curtain: The Crushing of Eastern Europe, 1944-1956,  Gulag: A History (for which she won a Pulitzer in 2004); as a cookbook author she has From a Polish Country House Kitchen, and a travelogue writer, Between East and West: Across the Borderlands of Europe. 
Anne Applebaum, 53, is a native of Washington, DC, she graduated from Yale University, was a Marshall Scholar at the LSE and St. Antony's College, Oxford. Anne is married to Radoslaw Sikorski, a Polish politician and writer. They have two children, Alexander and Tadeusz.