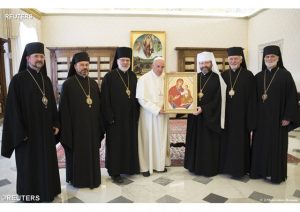 One of the resolutions of the 2016 Synod of Bishops of Ukrainian Greek Catholic Church (UGCC) which met September 4-11, 2016, in Lviv-Brukhovychi, is the following:
In order to evoke an interest to the social ministering among faithful of UGCC and behave a virtue of sacrifice and mercy, to announce in UGCC:
Sunday of a Prodigal Son – Day of the extreme care for prisoners; Sunday of Meatfare – Day of Social service and charity;
Restoring a tradition of Social days initiated by righteous Metropolitan Andrey Sheptytsky;
To organize days between Sundays, mentioned as previous points as Social days and be involved in intellectual and charitable activities at the parishes.
His Beatitude, Patriarch Sviatoslav is encouraging us to look at the ways we can implement these items in our life of faith on a personal level and in our parish. It is the hope that our Parish will extend the range of Social ministry and quality, and introduce its institutional development and commitment to those in need. This is the teaching of Jesus Christ, the Fathers of the Church, and the teachers and bishops of the Church. These recommendations are consistent with the Year of Mercy which Pope Francis has called us to live.