Sunday Morning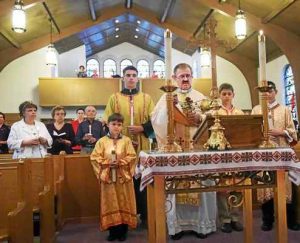 9:00 a.m. Divine Liturgy in English
10:30 a.m. Divine Liturgy in Ukrainian
Weekday Mornings
8:00 a.m. Divine Liturgy
Services are in English and Ukrainian
Confessions
The Sacrament of Penance is heard one half hour prior to the Divine Liturgy.
Sacraments
For the Sacraments (Mysteries) of Baptism, Chrismation, Holy Eucharist, Anointing of the Sick, and Marriage, please speak with Father Iura.
Visiting our Elders
Kindly notify the rectory office about parishioners who are confined to home, hospital, or convalescent home, so that Father Iura may visit them with the sacraments. Sacrament of Anointing of the Sick brings healing to the infirmities of both body and soul, as God sees fit, through the anointing of holy oil and prayer.
Advent
Great Lent
7:00 p.m. Liturgy of the Presanctified Gifts