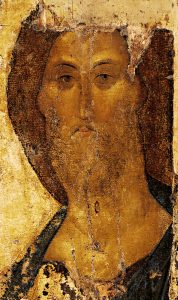 Meditation by the Very Rev. Dr. David M. Petras
Galatians 1:11-19; Luke 6:31-36
In the Gospel of St. Matthew, Jesus commands us, "Be perfect, just as your heavenly Father is perfect. (Matthew 5:47)" In Luke's Gospel, he commands, "Be merciful, just as your Father is merciful. (Luke 6:36)" Mercy, therefore, is perfection. How, indeed, can we, weak and finite human beings achieve "perfection." How can we keep God's command. St. Gregory of Nyssa pondered that problem and asked that question. His response was, that perhaps perfection consists in this: constant growth in the good. It might seem that God is asking the impossible of us today, "love your enemies and do good to them, and lend expecting nothing back." This goes against every human instinct, yet this is what God demands, for this is how God is merciful. That God is merciful appears on every page of the Scripture, and we pray constantly, "Lord, have mercy." We cannot ask God's mercy unless we are merciful. Perhaps the answer to this problem is the same as perfection: we must constantly grow in mercy. If we do not, then we grow in hate. If we seek revenge and retribution, then pain and hate simply grow and grow in a circle of mutual destruction. God's command is ultimately the only logic of a God who has created all things and loves all. Today we must do the impossible, today we must become a Christian, through God's help.