Our Bishop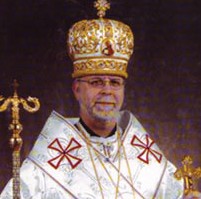 The Bishop of the Stamford Eparchy is Bishop Paul Patrick Chomnycky, O.S.B.M. who has served this local church since 2006.
Bishop Paul was born in 1954 and is from Vancouver, Canada. He is a solemnly professed monk of the Basilian Order of St. Josaphat; ordained priest since 1988 and bishop since 2002. Before being nominated to serve the Stamford Eparchy, Bishop Paul served in Great Britain.
Our Parish Priest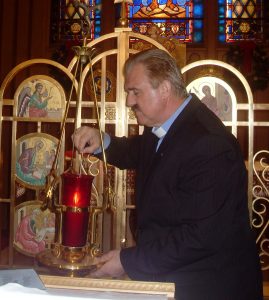 Our Pastor is Father Iura Godenciuc with his wife, Juliana, as the "Panyi Matka" of our parish. They are the parents of two children.
The Byzantine Tradition of the Church we have conserved the tradition of married priests. This sacred tradition is found in the New Testament (Titus 1:6ff).
"Panyi Matka" is one of the terms used to both address and refer to the priest's wife. The term means roughly "Reverend Mother." Other names used in Byzantine Churches for the priest's wife are: Panyi (also Ukrainian), Presbytera (Greek), Matyushka (Rusyn) – indicating that the priest's wife in a very real sense shares in the priesthood of her husband and in good works.
Father Iura is sometimes assisted by Father Albert Forlano and Father Stepan Yanovski.
In 2009, St. Michael the Archangel Church, a community of faith of the Ukrainian Byzantine Catholic Church, celebrated 100 years of foundation. The community gathered first in a house, then in a church on Park Street and now on George Street. Bishop Paul together with the emeritus eparch of Stamford, Bishop Basil Losten, and area clergy, served the Divine Liturgy thanking Almighty God for the many graces He bestowed on the Parish.
For 100 years St. Michael the Archangel has been standing guard for us here in New Haven, Connecticut. For 100 years the Gospel of Jesus Christ has been preached. For 100 years graces have been given to us through the Holy Mysteries (the sacraments). For 100 years the people have been listening, believing in God and putting the Gospel into action.
The angels are well known in sacred Scripture, in Catholic theology, in our lives; they inform, protect, and guide us as we make the path of living our Catholic faith. The angels provoke us to deeper faith in Jesus Christ as Lord and Savior.
Opportunities for education at St. Michael's
Children's Catechesis
Please speak with Father Iura for more detailed information about religious education, or if you would like to enroll your child who is age 7 or older in the religious education program.
Ukrainian School (Ridna Shkola) 
Director: Myron Melnyk
Opportunities to serve at St. Michael's
Parish Council
Financial Secretary — Natalie Chermak
Sestrichi
President Barbara Schwartz
Special Events Coordinator for the Parish
Natalia Chermak
Ukrainian American Veterans, Bishop John Stock Post 33 New Haven, CT
Post Commander Carl R. Harvey
Ukrainian National Women's League, Branch 108
Christine Melnyk