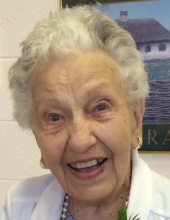 We are sad to announce the falling asleep in the Lord of Sophie O. DeCarlo. Just a few days short of her 104th birthday which would have been celebrated on September 22nd.
Sophie's funeral liturgy will be tomorrow, Friday, September 24th, at 10a.m. at the Parish. A calling hour will be at 8:45 a.m. at Iovanne Funeral Home, 11 Wooster Place, New Haven with the Panakhyda at 9:00 a.m.
Let us pray for Sophie and her family at this time. She was an extraordinary woman of faith, family and service.
May Sophie's memory be eternal.