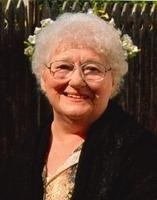 We are sad to announce that Mary Ann (Herceg) Yursha, 82, of Wallingford, died Wednesday, May 13, 2020.
Due to the COVID 19 health crisis, Mary Ann's family will have a private family service at The Wallingford Funeral Home. Interment in the State Veterans' Cemetery in Middletown will be private.
Mary Ann's obituary may be read here.
In Christian Charity, please offer a prayer for the peaceful repose of the soul of Mary Ann, and for the consolation of her children Ann E. and Paul Lehr, Mary L. Johnston and Hans Hanson, and Juliann M. and Neil Bukowski as well her grandchildren.
May the Holy Theotokos and Saint Michael the Archangel assist Mary Ann.
Eternal Memory.