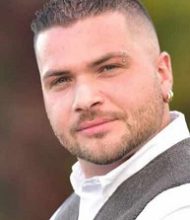 Joshua J. Brezicki, 31, fell asleep in the Lord on Saturday, March 7, 2020, as a result of injuries sustained in a car accident. He was a parishioner of St. Michael's where he also served at the altar.
The funeral services:
Visiting hours will be Friday, March 13 from 4:00 to 8:00pm at the North Haven Funeral Home with the Panachyda service at 6:00pm.
The Funeral Liturgy on Saturday, March 14, at 10:00am at St. Michael's Ukrainian Catholic Church
Joshua's obituary may be read here.
Let us pray for the peaceful repose of Joshua's soul, for beloved wife, Tiffany and son Joshua J. Brezicki, Jr., and his family.
May Our Lady, the Holy Theotokos and all the saints assist Joshua before the Throne of Mercy.
May Joshua's memory be eternal.