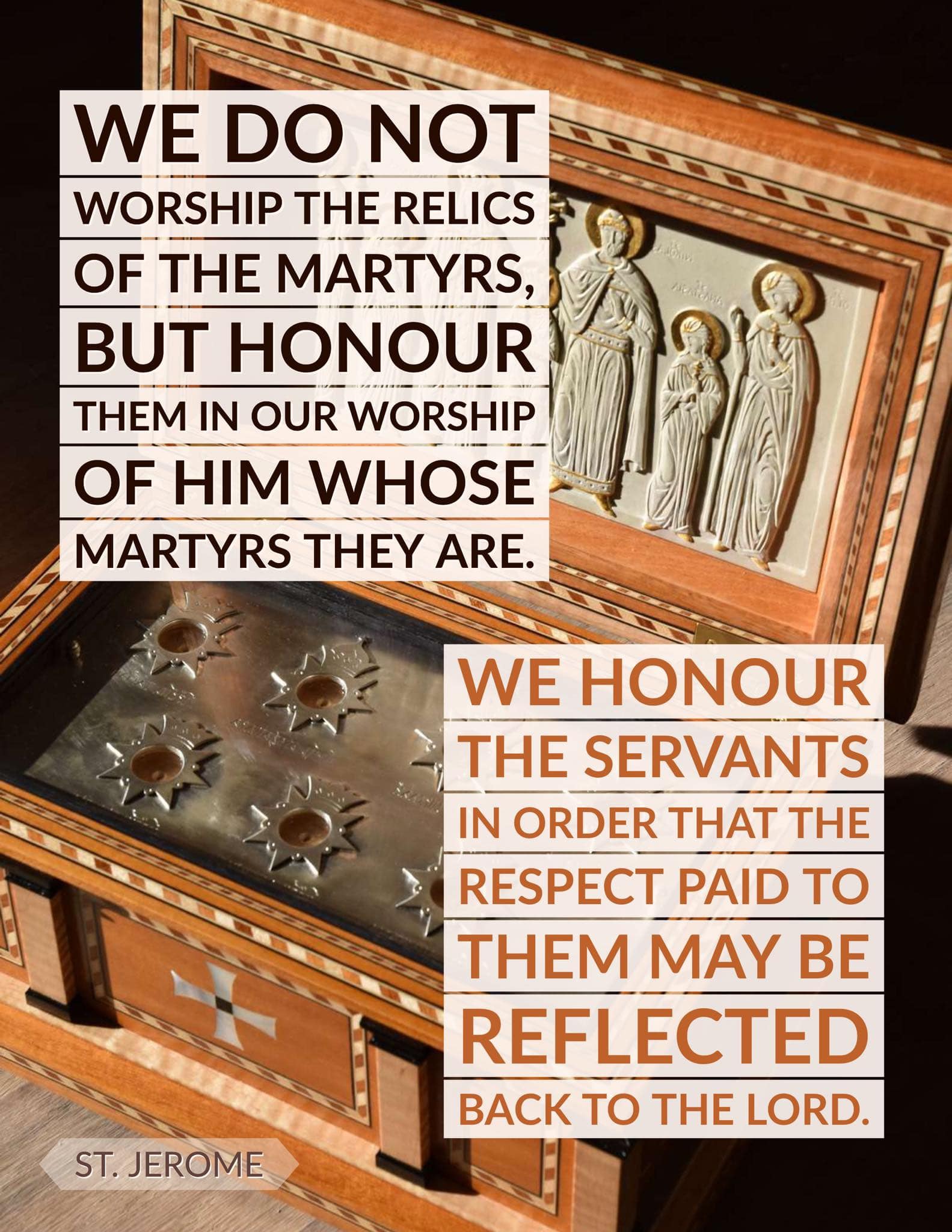 There seems to be significant questions surfacing among Catholics as to what the worship of God entails. It is a rather deep and intricate answer but two paragraphs may begin to reflect upon what the Church gives witness to and what is reasonable. What does the Church teach regarding worship, relics and honor of the saints?
In the Catechism we read:
The Church also professes the Paschal mystery in the feasts of her saints, who suffered with Christ and with him were glorified. The Church offers the example of the lives of the saints to the faithful for imitation, in order to bring all to the Father through Christ in the Holy Spirit. The liturgical commemoration of saints is effected in the services and in the veneration of their icons and their relics. The date of the veneration of saints is usually the day of their death, that is, their birth to heaven. It can also be the day of the finding or transferral of their relics. Every day of the Church Year is dedicated to one or more particular saints. The liturgical services (hymnography) for the saints are collected month by month in twelve volumes called the Menaia (from the Greek, meaning monthly).
AND
One of the first Fathers who elaborated a theological foundation for icon veneration was Saint John of Damascus. He teaches: "I venerate the icon of Christ the incarnate God … because the honour that we render unto the image belongs to the Prototype." In the icon, we venerate not the image but the imaged person, whom we prayerfully contemplate. This is because the icon raises our mind from the image to the Prototype. The Seventh Ecumenical Council of 787 condemned Iconoclasm and confirmed the veneration of icons of the Lord Jesus Christ, the most holy Mother of God, and the angels and saints. Along with this, the Council distinguished between adoration, which is due exclusively to God (in Greek, latreia), and veneration (in Greek, proskynesis), which we render unto icons, the Gospel Book, the cross, and the relics of saints. We venerate icons by kissing and censing them, and lighting candles and lamps before them. The icon is also the Church's teaching expressed in images. Therefore it should be written not arbitrarily but only accord ing to iconographic canons which ensure that the faces of Christ, the Mother of God, and of the saints are recognizable in all instances.
~Christ Our Pascha, 577, 591