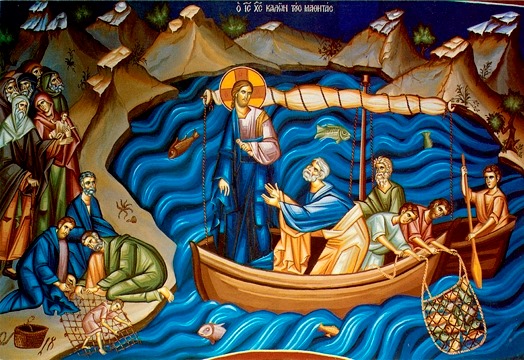 Read: Romans 2:10-16; Matthew 4:18-23
My favorite poet is a Jesuit priest who lived in the 19th century, and wrote about our faith. His name is Gerard Manley Hopkins, and though he was unknown in his lifetime, he changed English poetry. He wrote of our life in Christ:
In a flash, at a trumpet crash,
I am all at once what Christ is, since he was what I am, and
This Jack, joke, poor potsherd, patch, matchwood, immortal diamond,
Is immortal diamond.
This is what happens in today's Gospel. Jesus calls Peter and Andrew and John and James, ordinary fishermen, and they IMMEDIATELY follow him. They become "immortal diamond," oh —after one weakness when they run away at Jesus' arrest, but then finally "in a flash" by the coming of the Holy Spirit.
St. Paul witnesses: "Consider your own calling, brothers. Not many of you were wise by human standards, not many were powerful, not many were of noble birth. Rather, God chose the foolish of the world to shame the wise, and God chose the weak of the world to shame the strong," (1 Corinthians 1:26-27).
Today, though, especially because of mass media, the greatest fear we have is of being "ordinary." We are unsure of ourselves, and we do not want to ever admit that we are or ever have been "ordinary." Our problem is lack of faith. We want to become "immortal diamond" on our own terms, not from God's calling. This is the sin of Adam and Eve, we want to "do it our way." We have no humility, we do not trust in God's plan.
Today's gospel tells us differently —we don't get the fifteen minutes of false glory that the world gives, but immortal life in Christ. Today we are Simon and Andrew and James and John, hearing the voice of Jesus, "Come, follow me." Today we hear the Lord calling us calling us to a life like his of caring for others and proclaiming the gospel, if not by words, by our actions and lives. We cannot ignore this call. And St. Paul promises in the epistle "There will be glory, honor, and peace for everyone who does good, Jew first and then Greek. There is no partiality with God" (Romans 2:15-16).
Meditation by Archpriest David Petras
#ByzantineCatholicNew Haven
#stmichaelnewhaven