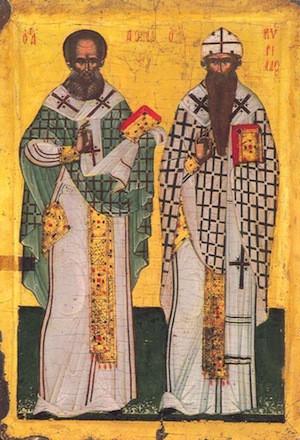 Our Holy Fathers Athanasius and Cyril, Archbishops of Alexandria are honored by the Church today.
Our Holy Father Athanasius (whose name means "Resurrection") was the architect of the Council of Nicea. He was a pillar of the truth of Christ, showing that Jesus is the Word of God, that "all things came to be through him, and without him nothing came to be. What came to be through him was life, and this life was the light of the human race; the light shines in the darkness, and the darkness has not overcome it. (John 1:3-5)" In this way, he teaches us what really happens in our baptism, we are deified, so that by sharing in the death of Christ through baptism, we share also in his glory and resurrection. St. Athanasius, therefore, explained clearly and simply what is found in Scripture: "For the Son of God became man so that we might become God" (De inc. 54, 3: PG 25, 192B.)
We should not make a fundamental mistake about deification, that, because of our faulty ideas about God's omnipotence and omniscience, we should become proud and over-bearing, as if this were to imitate God. Instead, God revealed humility in becoming a human being, and he displayed infinite love in laying down his life for our sakes. The true God-like person, then, would be humble, patient, compassionate and loving. That is what it truly means to be a baptized Christian, an authentic follower of Christ.
Meditation by Archpriest David Petras