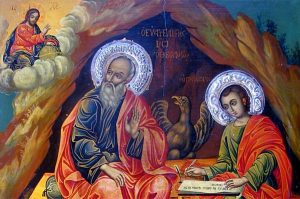 Today, September 26 is the Feast of the Falling Asleep of the Beloved Apostle, John the Evangelist and Theologian
The gospel of John is considered the foundational gospel in the Eastern Church, and John is honored with the title of "Theologian," for he explained well who Jesus, the Son of God, was. It is from his gospel that we know "In the beginning was the Word, and the Word was with God, and the Word was God. He was in the beginning with God. All things came to be through him, and without him nothing came to be. What came to be through him was life, and this life was the light of the human race; the light shines in the darkness, and the darkness has not overcome it" (John 1:1-5). He also showed us that love is the basis of our theology.
It was said that in his old age, John would simply preach constantly, "Children, love one another." In the epistle for this feast, 1 John 4:12-19, we read, "No one has ever seen God. Yet, if we love one another, God remains in us, and his love is brought to perfection in us …. God is love, and whoever remains in love remains in God and God in him."
Saint John preached the Gospel in Jerusalem and Samaria, and was banished to the isle of Patmos. In old age, he returned to Ephesus where he made a home for the Theotokos. An ancient church marked the place until its destruction in World War I.
Tradition holds that John died during the reign of Trajan, a full century after the birth of Jesus.
The Dismissal for today's Liturgy:
May Christ our true God, have mercy on us and save us, through the prayers of his most holy Mother, of the holy, glorious and praiseworthy apostle and evangelist, the pure and beloved friend and disciple of Christ, John the Theologian, whose venerable falling-asleep we joyfully celebrate today, and through the prayers of all the saints, for Christ is good and loves us all.
Meditation by Archpriest David Petras
slightly edited.