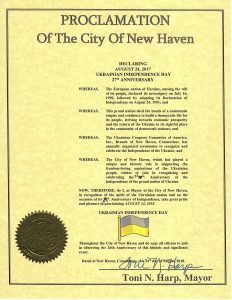 At a brief ceremony today following the second Divine Liturgy, members of our Ukrainian community gathered in the parish yard in front of the Holy Theotokos and our flags to pray and reflect upon the anniversary of Ukrainian Independence.
Let us pray to the Holy Spirit and to His Spouse, Mary the Mother God for Ukraine.
Here is New Haven's Proclamation (don't mind the errors in date)…. click to enlarge the image.