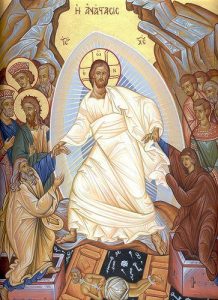 This is the "Feast of feasts."
This is the radiant and glorious day of the Resurrection of our Lord.
This is a day of faith and hope and love.
Of faith – This is the day of resurrection, let us be enlightened by it … Fr. Taft told the story of a Russian Orthodox priest who said that there was no greater experience of faith than to live the brilliant and radiant night of our Lord's resurrection, making the sign of the cross. We cannot truly celebrate Pascha without being transformed.
Of hope – "Christ is risen from the dead, by death he trampled death, and to those in the tombs he granted life. We sing our hope over and over again, this is our life, this is our hope of resurrection.
Of love – Pascha is the mystical marriage of Christ and his church:
"Today, Christ has shown forth from the tomb as from a bridal chamber …"
It means love of one another, "let us embrace one another! Let us call "Brethren" even those who hate us and in the resurrection, forgive everything …
"It is the day when God gives himself to us in communion for the forgiveness of sins and life everlasting.
It is the day when we forgive everyone, even those who hate us.
May the radiant joy of Pascha fill us all.
"Christ is risen."
Meditation by Archpriest David Petras