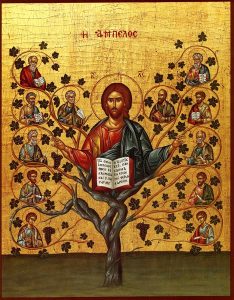 To inspire our prayer today, here are 2 texts from the Liturgy and a reflection on them.
Matins:
This is the season for repentance, the struggle of the Fast. It gains eternal life for us if we stretch out our hands to do good. For nothing is better for the salvation of our souls than to share with the poor; and almsgiving together with fasting free us from death. Let us dearly love this rich treasure which can bring salvation to our souls.
Vespers:
Of old our first parents did not fast from the tree of knowledge according to the command of the Creator, and they received death as the fruit of their disobedience. They were deprived of the tree of life and the sweetness of paradise. Therefore, O faithful, let us fast from perishable food and our deadly passions, so that we might acquire life from the divine tree of the cross, and return with the good thief to our ancient homeland, through the mercy of Christ our God.
Reflection:
The Great Fast is Christ as the way of life. He came that we might have life in abundance, which means fasting "from perishable food and deadly passions." Adam and Eve ate from the tree of the knowledge of good and evil. Does that mean God does not want us to "know" about good and evil. No, what it means is that we do not define good and evil for ourselves, but only according to God's commands. The fast often meditates of the tree of life – it is Christ who said, "I am the vine and you are the branches (see the icon). The third Sunday of the Cross gives us access to the tree of life, which is the cross, and the fruit of which is Holy Communion. A second reflection: can we "buy" eternal life? Apparently so, for the price is "to share with the poor, and almsgiving" that frees us from death.
Meditation by Archpriest David Petras