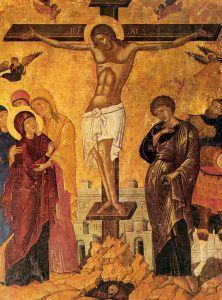 For our prayer today…
Matins:
By fasting let us subdue the passions of our mind, and let us put on the wings of the spirit, so that overcoming the tempest raised by the enemy, we may be worthy to adore the Cross of the Son of God. He willed to be sacrificed for the world and we now spiritually keep the feast of his Resurrection from the dead. Let us ascend the mountain with the apostles to glorify the Son of the Father who loves all of us, and to whom all power is now given.
Vespers:
O faithful, while fasting bodily, let us also fast in spirit. Let us loosen every bond of injustice; let us tear apart the strong chains of violence; let us rip up all unjust assertions; let us give bread to the hungry and welcome the poor and homeless to our houses, that we may receive from Christ our God his great mercy.
Reflection:
I listened to this sticheron and was moved deeply in soul. It is a condemnation of me, for the fast really is about justice and charity toward one another. Who, indeed, rises to these challenges? Do we just sing this in our churches without effect? Does it really change our lives. God created a paradise for us and invites us back if only we are not deaf to his words.
Meditation by Archpriest David Petras