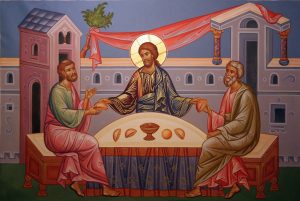 One of the images for the Great Fast is that of a journey. Since the Fast lasts 40 days, the 40 year journey of the Israelites through the desert to the Promised Land is a particularly powerful image. The Israelites were fed on manna in the desert, but in our journey we are fed by the Body of Christ in the Presanctified Liturgy. Jesus said: "I am the bread of life. Your ancestors ate the manna in the desert, but they died. This is the bread that comes down from heaven so that one may eat it and not die. I am the living bread that came down from heaven; whoever eats this bread will live forever; and the bread that I will give is my flesh for the life of the world" (John 6:48-51).
The readings from Zechariah tell us of another journey: "Thus says the Lord of hosts: I am going to rescue my people from the land of the rising sun, and from the land of the setting sun. I will bring them back to dwell within Jerusalem … Many peoples and strong nations will come to seek the Lord of hosts in Jerusalem and to implore the favor of the Lord" (Zechariah 8:7-8.22). Jerusalem is our goal. There our Lord died and there he gave us life. Our Lord said, "Yet I must continue on my way today, tomorrow, and the following day, for it is impossible that a prophet should die outside of Jerusalem" (Luke 13:33).
We are invited to follow him in our hearts to the heavenly Jerusalem where all glory will be fulfilled.
Meditation by Archpriest David Petras