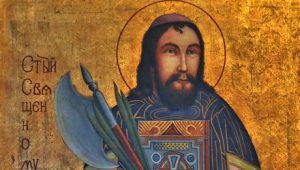 On Sunday, June 25, 2017, His Beatitude Sviatoslav and the entire Ukrainian Catholic Church will celebrate 150th Anniversary of Canonization of Saint Josaphat. The Divine Liturgy will be celebrated on the main altar of Saint Peter's Basilica in Rome.
Saint Josaphat, bishop of the Ukrainian Catholic Church (1618) – was Archbishop of Polotsk and founder of the Order of Saint Basil the Great. On June 29, 1867, Blessed Pope Pius IX canonized Blessed Josaphat and declared him as the Patron of Rus'. Saint Pope John Paul II called Saint Josaphat "apostle of unity". Saint Josaphat is known as the patron of Ukraine.
Saint Josaphat, pray for us.