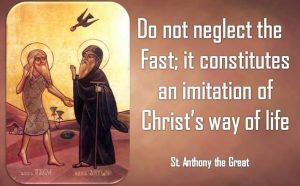 Archpriest David Petras reviews some hallmarks of the liturgical observance and prayer.
In the Great Fast, the days follow the more ancient system of the Roman Empire, running from midnight to midnight. In the oldest stratum of the Proper texts for the Great Fast, there is a "samohlasen," (Slavonic term) or "idiomelon" (Greek term) for the morning service (Orthros/Matins) and for the evening service (Vespers) that gives the keynote for each day of the Fast. These hymns are sung twice, usually at the apostichera, to accent their importance.
Behold, this is the time of spiritual struggle and the victory over demons. The armor of temperance is the splendor of the angels and the assurance of closeness to God. By it Moses became a confidant of the Creator, and was able to hear his voice in invisible revelations. By it, grant us also in your goodness, O Lord to adore your Passion and your holy Resurrection.
The light of your grace has shone upon our souls, O Lord. Behold, this is the favorable time, the season of conversion. Let us turn away from the works of darkness, and let us clothe ourselves with the armor of light, so that, crossing the ocean of the Fast, we may come to the harbor of the Resurrection on the third day with our Lord Jesus Christ, the Savior of our souls.
Monday of the First Week:
The holy Fast has arrived; it denounces sin and defends repentance. It is the time of temperance. It brings salvation close to us, and makes us share the life of angels. O faithful, let us cry out with full voice: Lord have mercy on us.
Let us offer a fast acceptable to the Lord, for the true fast is the estrangement from sin: no more idle chatter, no more wrath; no more evil desires, no insults; no more lying, no false oaths. If we abstain from all this, we shall keep a fast that is indeed acceptable to the Lord.