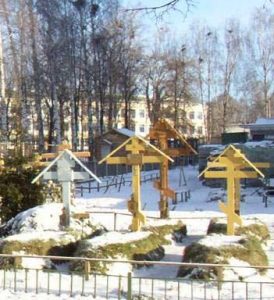 On the first free day after Bright Week [i.e., today], the Church traditionally remembers all those who have fallen asleep. Because of the hope of the resurrection, this is called the "

Day of Rejoicing

," in Slav "

radonitsa

."
On this day, the Tuesday of St. Thomas week, according to the order instituted by our Holy Fathers, we call to remembrance, in Paschal joy, all those who have died from the beginning of the ages in faith and in the hope of resurrection and life eternal.
 Having previously celebrated the radiant feast of Christ's glorious Resurrection, the faithful commemorate the dead today with the pious intent to share the great joy of this Pascha feast with those who have departed this life in the hope of their own resurrection. This is the same blessed joy with which the dead heard our Lord announce His victory over death when He descended into Hades, thus leading forth by the hand the righteous souls of the Old Covenant into Paradise. This is the same unhoped-for joy the Holy Myrrhbearing Women experienced when discovering the empty tomb and the undisturbed grave clothes. In addition, this is the same bright joy the Holy Apostles encountered in the Upper Room where Christ appeared though the doors were closed.
In short, this feast is a kindred joy, to celebrate the luminous Resurrection with our Orthodox forefathers who have fallen asleep.
 There is evidence of the commemoration of the dead today in the writings of the Church Fathers. St. John Chrysostom mentions the commemoration of the dead performed on Tuesday of St. Thomas week in his "Homily on the Cemetery and the Cross."
 Today, the faithful departed are remembered in Divine Liturgies, 'koliva' is prepared and blessed in the churches in memory of those who have fallen asleep, and the Orthodox graves in cemeteries are blessed by the priests and visited by the faithful. On this day alms are given to the poor. Furthermore, it should be noted that due to the great spiritual joy this jubilant commemoration bears, it is called in the Slavonic tongue, '

Radonitsa

,' or "

Day of 
Rejoicing

." 

An excerpt from the Homily of St. John Chrysostom: "On the Cemetery and the Cross"
 "By His death, Christ bound the chief of robbers and the prison guard, that is, the devil and death, and transferred their treasures, that is, the entire human race, to the royal treasury. The King Himself came to the prisoners and broke the doors, crushed the bars, vanquished Hades, and stripped the prison."
Meditation by Archpriest David Petras