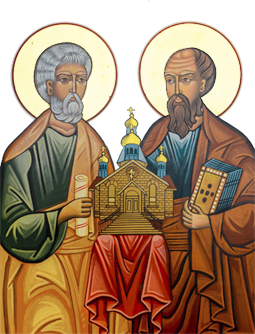 The feast day for the Apostles of Rome and early founders of the Church –Saints Peter and Paul– is on Saturday, June 29.
The Divine Liturgy will be served at 9:00 a.m. in English and Ukrainian.
The Church's spiritual tradition has us observing the Fast of the Holy Apostles (Petrivka) as a way to deepen our relationship with the Lord and His preaching of Salvation through the ministry of Ss. Peter and Paul. The Fast has been observed from Monday after All Saints Sunday until the feast day on June 29 (or July 12 – Julian Calendar).
As a Church we honor the memory of the chief apostles by attending the Divine Liturgy. The Bishops have designated this day as a holy day of love (obligation).
In our catechism, Christ Our Pascha, we read: "The apostles, Christ's disciples, received the Word of God and proclaimed the good news about him to the whole world. They witnessed to Christ by the word of their preaching and by the example of their lives. The mission of the apostles was taken up by their successors, the Holy Fathers of the Church, who preserved and safeguarded the unbroken continuity of Apostolic Tradition by means of the episcopal succession down to our times."