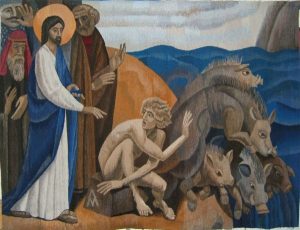 Fifth Sunday after Pentecost
Romans 10:1-10; Matthew 8:28-9:1
In this Sunday's Gospel Jesus encounters two men in the Gadarene territory who are possessed by demons, by evil. The evil is distressed, and says, "Have you come here to torment us before the appointed time?" They knew that at the end there would be a judgment in the last days, but thought they had the right to stay in these men's bodies until then. However, evil cannot abide in the presence of God, and so they must leave before the "appointed time" and destroy another evil – the unclean animals forbidden to the Jews. Can we say that Jesus is no longer with us as he was in the Gadarene territory. Has he left us to go to sit at his Father's right? But St. Paul tells us that the presence of Jesus is not a geographical problem, "Who will go up to heaven? Who will go into the abyss? – to bring Jesus here. The mysteries of the descent into Hades and the Ascension are mysteries of God's relationship with us, and so St. Paul says, "The word is near you, in your mouth and in your heart. (Romans 10:8)."
Christ is with us, and evil cannot abide in his presence. He must be present both in our souls, in the center of our being, and also outside in our witness to others, in our lips or in any way that we communicate.
It's not enough to be a "secret" Christian nor to be a hypocrite, saying "Lord, Lord," but not believing. Only then can obstacles to our spiritual growth and progress be removed. Remember, the demoniacs were so savage that no one could travel by that road. Evil is so savage that it blocks our way to God, and God alone can remove that block.
For an interesting read on the Gadarene demonics, see Michael Willett Newheart's book, 'My Name is Legion': The Story and Soul of the Gerasene Demoniacs (Interfaces, Liturgical Press, 2004). He follows, however, the Markan account.
Commentary from the Fathers:
The Demons Cried Out. Cyril of Alexandria: The divine nature of the only begotten Son was already scorching the demons in unspeakable flames. Christ was shutting up the fiercest demons in blocked roads. He was undoing the devil's tyranny. "You have come before the time," they cried out. For they knew from the Scriptures that Christ was going to come and would judge them. Treating the incarnation as if it had happened at the wrong time, they pled that he had come in an untimely way. This misrepresentation is not surprising. In their deceptiveness, they did not hesitate to say even this. Yet, although they know that vengeance is to fall upon them, they still say haughtily, "What have you to do with us?" They know that the final Judge in fact has a score to settle with them, inasmuch as they had broken his commandments. Fragment 101.