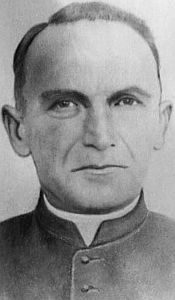 In addition to the Solemnity Annunciation celebrated today, we also have Blessed Emilian Kovch (1884-1944), a married Eastern Catholic priest and father of six who was persecuted under Communism and Nazism. Father Kovch died on March 25, 1944. He was beatified by St. John Paul II on 27 June 2001.
Emilian Kovch, a son of a Greek Catholic priest. Himself ordained the year following (1911) his marriage and began to work as a parish priest. Fr. Kovch spent 1919-1921 as a military chaplain. He was captured and briefly held as a prisoner of war. This time in confinement was a preview what came later.
Kovch lived a life of Christian virtue in his care for orphans and the poor, teaching, working for social and political liberty, he preached respect for others at all times, and he preached on the duty to fight anti-Semitism. He was a organizer of Eucharistic congresses and pilgrimages.
On the point of anti-Semitism, Father Kovch acted heroically when he placed himself in harm's way when he protected the local synagogue by blocking the entry of soviet soldiers from entering.
Kovch's social engagement gained the attention of the government, especially the Polish and later soviet leaders that made him vulnerable to the intrusive games of the military when they searched his home 40 times; and on at least one occasion he was fined and imprisoned in a monastery. Father Kovch preached passionately against the actions of his fellow Ukrainians taking anti-Polish actions; it is said he was deeply disappointed that his people looted Polish homes when the Soviets came.
Father Kovch was arrested at what turned out to be the near-end of Soviet oppression. The priest and his two daughters escaped; history reveals that all the prisoners in their group had been murdered by the Soviets as the Nazis approached. As the only Catholic priest in his group of prisoners, he became a source of strength and light in a very dark time. When his family attempted to have him released, he begged them to leave him there:
I understand that you are trying to get me released. But I beg you not to do this. Yesterday they killed 50 people. If I am not here, who will help them to get through these sufferings? They would go on their way to eternity with all their sins and in the depths of unbelief, which would take them to hell. But now they go to death with their heads held aloft, leaving all their sins behind them. And so they pass over to the eternal city.
May we follow the excellent example of Blessed Emilian Kovch. May he intercede for us when we face discouragement and the temptation to abandon the practice of Catholic faith.