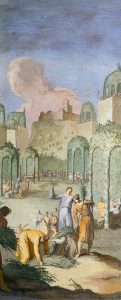 Meditation by Very Rev. Dr. David Petras
Ephesians 6:10-17; Luke 12:16-21
"But God said to him, 'You fool, this night your life will be demanded of you; and the things you have prepared, to whom will they belong?' Thus will it be for the one who stores up treasure for himself but is not rich in what matters to God. (Luke 12:20-21)" This is a message of "good news" that Jesus, our Lord and God, shares with us often. In the gospel of St. Matthew, he tells us, "But store up treasures in heaven, where neither moth nor decay destroys, nor thieves break in and steal. (Matthew 6:20)" And: "Why are you anxious about clothes? Learn from the way the wild flowers grow. They do not work or spin. But I tell you that not even Solomon in all his splendor was clothed like one of them.(Matthew 6:28)" This is certainly a timely message for this Thanksgiving week, when we express gratitude to God for all the blessings we have received. Sometimes we think only of the material goods we own. I always remember one of my parishioners in the day I was active in a parish, he always gleefully said, "Here comes Turkey Day," forgetting that it is the day of returning gratitude to God. We should also give thanks for our family, our friends and our neighbors, without whom we would have no human life. But even more than this, we give thanks for God's gifts, for the "heavenly bread" of the Body and Blood of our Lord Jesus Christ and for the gifts of the Spirit, many of which are mentioned in today's Epistle: truth, righteousness, the gospel of peace, faith, salvation and the gift of the Spirit himself. Yes, we give thanks in the midst of "the principalities, with the powers, with the world rulers of this present darkness, with the evil spirits in the heavens. (Ephesians 6:12)" But it is God who will bring us to salvation, and for this is our eucharistia, our thanksgiving.