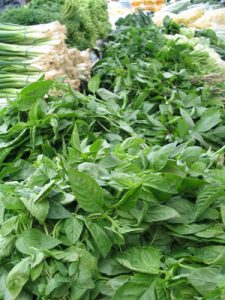 Neither the tomb, nor death, could hold the Theotokos, who is constant in prayer and our firm hope in her intercessions. For being the Mother of Life, she was translated to life, by the One who dwelt in her virginal womb (Kontakion for the Dormition).
As part of our celebration of Dormition on Tuesday, August 15, we will bless herbs and flowers for use in the home. Please bring herbs and flowers to Divine Liturgy (10:00 a.m. and at 7:00 p.m.). As a point of liturgical fact, the Church asks God to bless herbs and flowers –and thus us– to remind all of us of the gifts God has given us for our sustenance, healing and beauty.
Holy Tradition educates us that all the Apostles, except St. Thomas who was late, were transported mystically to Jerusalem in order to be with the Mother of God – the Theotokos – as she reposed, and to given her a burial. When Thomas arrived the next day, the Apostles opened the tomb so that he could kiss Mary farewell. The opened tomb revealed that the body of the holy Virgin of Mother of God was missing, and filled with herbs and flowers. This event was a sure sign of her great purity and holiness.
What happens to Mary happens to all of us who imitate her holy life of humility, obedience, and love.