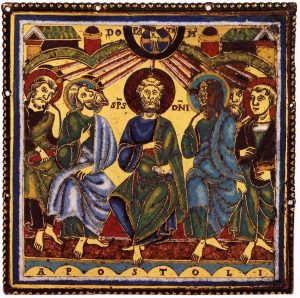 Day 10 – Pentecost Sunday
Read: Gospel of John 7:37–52; 8:12
Prayer. Blessed are Your, O Christ our God who revealed the shermen as most wise by sending them the Holy Spirit; through them You caught the entire world. Loving Master, glory to You. (Troparion for Pentecost)
Missionary tasks.
1. Personal/Family. As we close these Mission Days let us look at the list of gifts and fruits of the Holy Spirit. Let us ask ourselves: what gifts do I see in my family, what fruits have I brought over the past year.
2. Parish. Let us open our eyes to the gifts of the Holy Spirit in our parish community. In planning our parish life let us focus on the fruits of the Holy Spirit we would like to bring forth.
3. Beyond the parish. Let us teach ourselves to see our personal behav- ior and our entire life in the Christian community through the lens of mission: as an opportunity to bear witness to God's love and goodness before others.