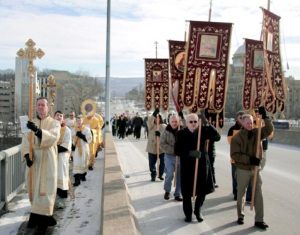 "Since the invisible One became visible by taking on flesh, you can fashion the image of Him whom you saw. Since He who has neither body, nor form, nor quantity, nor quality, who goes beyond all grandeur by the excellence of His nature, He, being of divine nature, took on the condition of a slave and reduced Himself to quantity and to quality by clothing Himself in human features. Therefore, paint on wood and present for contemplation Him who desired to become visible."
St. John of Damascus
On the Divine Images
This Sunday is called the "Sunday of Orthodoxy" because it commemorates the restoration of the Church's teaching on making images (icons) of our Lord and the saints in the year 843. Before that, it was the Sunday of the Commemoration of the Holy Prophets. This explains the Gospel, Phillip witnesses to Nathanael: "We have found him of whom Moses in the law and also the prophets, wrote – Jesus of Nazareth, the son of Joseph." This is our goal in the Great Fast – to find our faith in Jesus. The Great Fast was the training period for those about to be baptized, and it was a time for the whole community to rediscover its faith.
Along the journey to Holy Week, we read especially from the book of Genesis and from Isaiah to guide us to Christ, who will perfect his covenant with us by his death and resurrection. This is why, in the Apostolic reading, we remember Moses, Gideon, Barak, Samson, Jephthah, David and Samuel and all the prophets. It was all for Jesus, "Yet all these, though approved because of their faith, did not receive what had been promised. God had foreseen something better for us, so that without us they should not be made perfect. (Hebrews 11:39)" How, then, should we keep the Fast? Hebrews tells us: "since we are surrounded by so great a cloud of witnesses, let us rid ourselves of every burden and sin that clings to us and persevere in running the race that lies before us while keeping our eyes fixed on Jesus, the leader and perfecter of faith" (Hebrews 12:1-2).
The Sunday of Orthodoxy helps us to fulfill this plan, for "keeping our eyes fixed on Jesus," gazing upon his image, we are led to God, to faith, to life.
Meditation by Archpriest David Petras