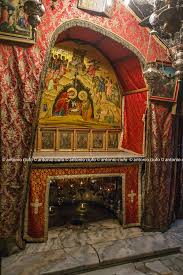 All Christian churches prepare for the feast of the birth of Christ by some sort of period of penance. The Western church calls this the period of Advent, connected with the Latin word for "come," since we are waiting for Christ to come into our lives. We may be celebrating an event in the past, the birth of Jesus, the first coming of God into our world, but we are also celebrating the present, God coming into our own lives and into the world of today, and the future expectation of Christ's second coming, when he will come in glory to judge tote world in righteousness.
The Roman Church once began the Christmas preparation on St. Martin's Day, Nov. 11, which gave forty days until the winter solstice on Dec. 21, and the church of Milan in Italy still has a forty-day preparation beginning on Nov. 15.
Traditionally, the Byzantine Church also begins its Christmas preparation on Nov. 15. Since this follows the feast of St. Philip the Apostle, it is called the Philip's Fast. There is a legend about St. Philip, that when he was about to be martyred, he delayed his entrance into heaven by forty days in order to do penance for the sake of his persecutors. This is certainly only a legend, since Philip was not connected with the pre-Christmas fast until the ninth century, but it does point out one aspect of fasting – it is an act of charity for others. Some contemporary groups have expressed this by introducing the custom of setting aside the money they save by fasting to buy food for the poor. St. Philip is the apostle who leads us to Christ. When Jesus called him to be a disciple, his first action was to go and tell Nathaniel. When Nathaniel questioned him about Jesus, Philip replied, "Come and see" (Jn 1:46). Later in the Gospel, some Greeks (Gentiles, representing all nations) wanted "to see Jesus" (Jn 12:21), and it is Philip and Andrew that lead them to Christ. At the Last Supper, it is Philip that asks the question, "Master, show us the Father," and Jesus replies, "Whoever has seen me has seen the Father" (Jn 14:8¬9). In the face of Jesus our Lord, we are able to see the love of the Father for us. The holy Apostle Philip, therefore, leads us to Christmas, to see for the first time the face of God, who came into the world to break down the barriers between humanity and God (Eph. 2:14).