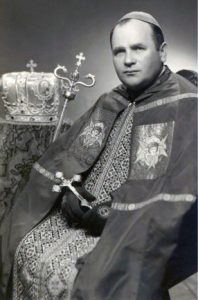 The Byzantine Church recalls the memory of a 20th century martyr for the faith, Basil Hopko (April 24, 1904—July 23, 1976) was a priest and bishop of the Slovak Greek Catholic Church. Hopko was beatified by Pope John Paul II for his martyrdom under Communist occupation.
Having contemporary models of holiness is important to us because it reminds us that it is possible to live the Gospel of Jesus Christ.
A brief biography can be read here.
Here is a hymn for our holy father and confessor Basil (Hopko), Bishop of Medila composed by James Michael Thompson.
The Church of God with angel ranks
Combines to sing the praise
Of Basil, shepherd of the flock
Who served Christ all his days!
With no regard for life or wealth
He preached the Word most true;
As he so bravely lived and died,
May we thus also do!
A scholar from his early youth,
He heard Your priestly call,
And from his ordination day,
He gave to You his all.
By pastoring and teaching, too,
His patient, faithful life
Became a shining model for
His Church in times of strife.
When vicious persecution came,
Upon him, hands were laid,
And he was made a bishop then,
A leader firm and staid.
Though seized, imprisoned, sick and worn,
He never turned away,
And through his good example, helped
All those who thought to stray.
O Father, lover of us all,
O Christ, our Master true,
O Spirit, holy Paraclete:
All praise we sing to You!
O Triune God, O One-in-Three,
We give you thanks today:
As blessed Basil followed You,
Help us to walk his way!
(Tune: Pod tvoj pokrov/We Hasten to Your Patronage)
(c) 2005, J. Michael Thompson