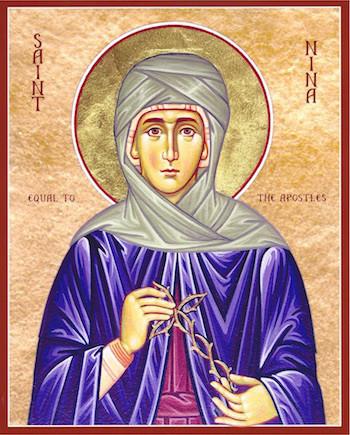 Today we celebrate St Nina, equal to the apostles.
One night the Virgin Mary appeared to Nina and said "Go to Iberia and tell there the Good Tidings of the Gospel of Jesus Christ, and you will find favor before the Lord; and I will be for you a shield against all visible and invisible enemies. By the strength of this cross, you will erect in that land the saving banner of faith in My beloved Son and Lord." When St. Nina awoke and saw in her hands the miraculous cross, she kissed it with tears of joy. Then, tying it in her hair, she went to see her uncle the patriarch. When the blessed patriarch heard that the Mother of God had appeared to St. Nina and had commanded her to go to Iberia to preach the Gospel of eternal salvation, he saw in this a clear expression of the will of God and did not hesitate to give the girl his blessing. When the time arrived for her departure, the patriarch led Nina into the church and up to the holy altar, and placing his hand on her head, he prayed in the following words:
"Lord God, our Savior! As I let this young girl depart to preach Your Divinity, I commit her into Your hands: Condescend, O Christ God, to be her Companion and Teacher everywhere that she proclaims Your Good Tidings, and give her words such force and wisdom that no one will be able to oppose or refute them. And You, most Holy Virgin Mother of God, Helper and Intercessor for all Christians, clothe with Your strength against all enemies, visible and invisible, this girl whom You have chosen to preach the Gospel of Your Son and our God among the pagan nations. Be always for her a shield and an invincible protection, and do not deprive her of Your favor until she has fulfilled Your holy will!"
Holy Apostle Nina pray for us!
(biography: In Communion)