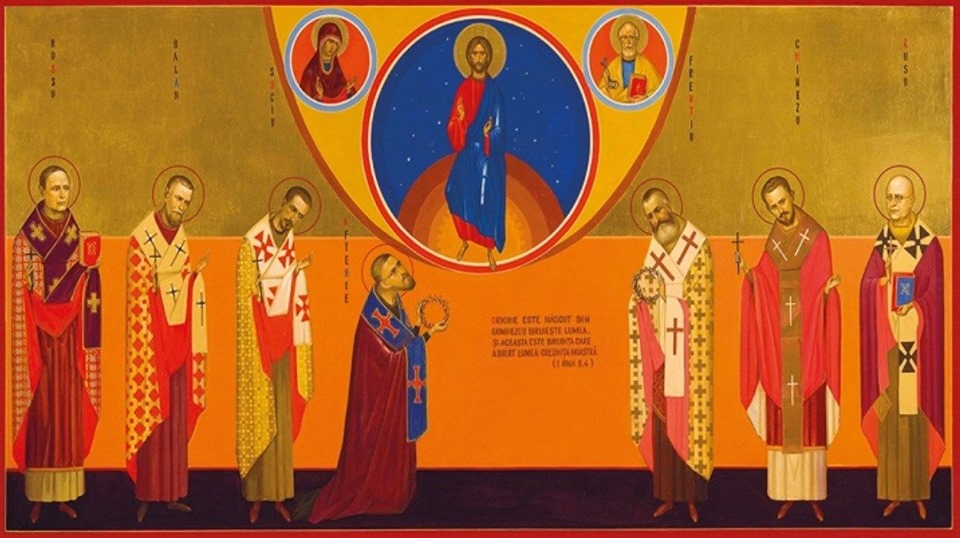 Icon of the seven newly beatified Romanian Greek-Catholic Hieromartyrs:
–Blessed Ioan Balan
–Blessed Ioan Suciu
–Blessed Vasile Aftenie
–Blessed Valeriu Traian Frentiu
–Blessed Tito Livio Chinezu
–Blessed Alexandru Rusu
–Blessed Iuliu Hoss
Holy New Martyrs of Romania, pray to God for us!
Pope Francis presided over Divine Liturgy Blaj, Romania –the heartland of the country's Greek-Catholic Church– on Sunday, June 2, where he declared "blessed" seven of its bishops, including one cardinal. The Blesseds had died a martyr's death in the decades following the suppression of the Eastern-rite Romanian Catholic Church in 1948.
Bishops Iuliu Hossu, who had been imprisoned in 1954 and died in hospital in 1970; Vasile Aftenie, who died in prison 1950; Ioan Balan, imprisoned 1950-54, he died in a monastery in 1959; Valeriu Traian Frentiu, who died in prison 1952; Ioan Suciu, died in prison 1953; Tito Livio Chinezu, died in prison 1955; and Alexandru Rusu, who died in prison 1963. Paul VI had made Bishop Hossu a cardinal but at his request only revealed this elevation after his death.
https://www.vaticannews.va/en/pope/news/2019-06/pope-francis-romania-beatification-7-greek-catholic-martyrs.html