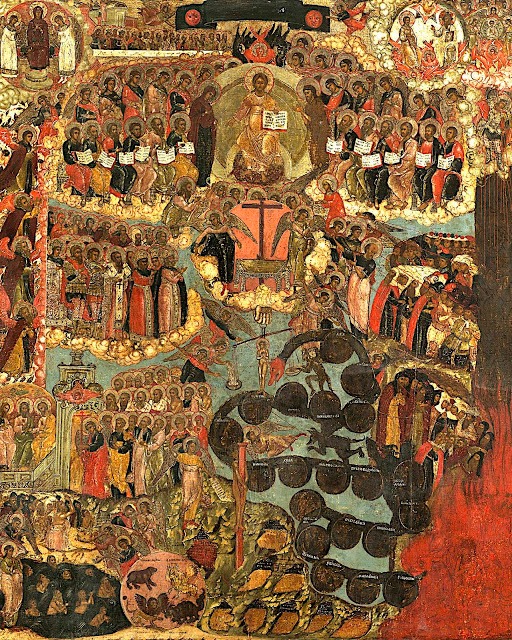 ***Nota Bene: Divine Liturgy this morning at 9:00 a.m.
****Father will be praying for the souls (blessing the graves) this weekend at the cemeteries: All Saints this morning beginning at 11am and tomorrow at St Lawrence at 12:30pm.
On this day, the Saturday before Holy Pentecost, we celebrate a memorial for all those who have fallen asleep since the ages in true worship and in the hope of everlasting life. The Holy Fathers established that on this Saturday that precedes Holy Pentecost, we observe the memory of all people who throughout the centuries died in the right faith, just as they ordered that this be observed on the Saturday before Meatfare Sunday. They did this moved by their love for mankind, so that all who for whatever reason did not have the usual benefit of individual memorial services might be included in this common memorial. According to tradition, the Fathers of the Church received this injunction concerning the memorial services from the Apostles, who themselves taught that the memorials performed on behalf of the reposed bring great benefit to those who have fallen asleep. (See Apostolic Injunctions, 8.42)
The Holy Fathers specified that we perform them today, because tomorrow we shall welcome the All-Holy Spirit and shall fervently be entreating the Lord for ourselves, that He send us His All-Holy Spirit to illumine us and strengthen us in the fear of God and in keeping the commandments and to guide us in obtaining eternal life. We shall also be praying for the deceased, that He give them rest in His lovely and longed-for dwellings. In praying for the dead, on the one hand, we show our love for our deceased fathers and brothers, and, on the other hand, we become more keenly aware of the vanity of this world, and thus we receive great benefit to our souls.
For nothing rouses the slothful to repentance better than the recollection of death. And nothing else brings us the recollection of death as well as the memory of our loved ones who have slept the eternal sleep. O Master Christ, grant repose in the dwelling places of the righteous to the souls of those who have preceded us in slumber, and have mercy on us and save us, for You alone love mankind. Amen. (Synaxarion of the Lenten Triodion and Pentecostarion, edited by Fr. David (Kidd) and Mother Gabriella (Ursache), HDM Press, River Junction, Michigan, 1999, pp. 228-229.)
This may have been a "Christianization" of a pagan custom. Spring was a time of release of the souls of children or maidens who had committed suicide or met a violent death. During rusalki these spirits were treated with pity and wreaths of flowers were offered to them. This feast was called rosalia in Latin and anthesteria in Greek and became associated with Pentecost because it was a spring feast. (George P. Fedotov, The Russian Religious Mind, Vol. I (Belmont, Massachusetts: Nordland Publishing Co.,1985), 18.)