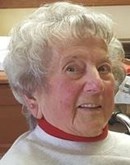 Melanie Horn Struk, 94, of North Haven, passed away peacefully on Monday, April 15, 2019. She was a longtime member of St. Michael the Archangel Ukrainian Catholic Church.
Our condolences go to Peter and Victoria Struk as we also pray for her husband Peter and daughter Anna who predeceased Melanie.
A funeral service will be conducted in the North Haven Funeral Home, 36 Washington Avenue on Thursday morning at 10:30.
Melanie's full obituary may be read here.
May Melanie's memory be eternal.